Eleven, is considered the Master Number by some...
"We Call It Techno" - DJ Hell
CD ELEVEN sees DJ Hell's International Deejay Gigolo imprint unleash its eleventh UNMIXED double CD compilation onto fans and fanatics of the 'Mega-Church of Gigolo'.
Including 16 never-before-heard unreleased monster Gigolo tracks; ELEVEN is a celebration of the label's avant-garde and legendary roster. Talents new and old take Gigolo into the long awaited renaissance period of Modern Dance Music.
Starting from its 1996 foundation, Gigolo has provided. The label's release history, which boasts almost 250 releases to date, has bought the likes of Miss Kittin & The Hacker, Jeff Mills, Dave Clarke, Fischerspooner, Tiga, The Psychonauts, The Presets, Justice and many more to the modern ear.
Over a year in the selection and making process, Gigolo's 2009 showcase forms over two discs, personally selected by DJ Hell.
Below you can find the full tracklist and artist highlights for ELEVEN of the artists featured on the CD.
Pre-Order Buy Link: Gigolo CD Eleven
HERE

1. DJ HELL
www.myspace.com/djhell
Featuring: 'The Disaster' (*CD 1 / Track 6)
"The intensity of Hell's own 'The Disaster' was released 2008, expect his double artist album 'Teufelswerk' coming May 2009, with his EP 'The Angst' to be released in March."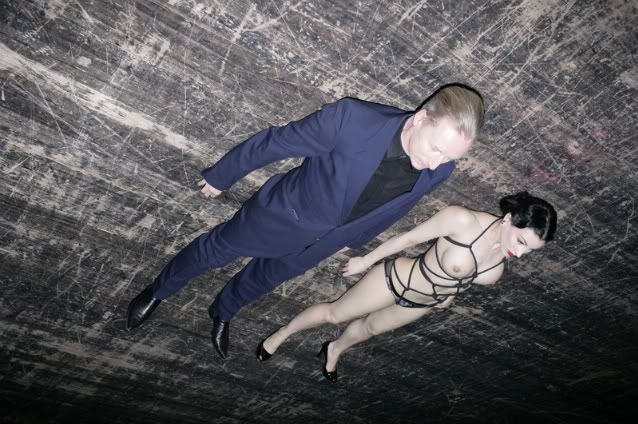 Followers of the Bavarian techno icon will know that he is fond of grand statements. And this time he's spot on: Teufelswerk - the German for "Devil's Work" - is Hell's masterpiece. Across 16 exquisite tracks divided into two themes, "Night" and "Day", Hell weaves an intoxicating spell. The nocturnal side offers a contemporary Teutonic interpretation of Chicago house and Detroit techno. Its sunnier sister disc finds Hell embracing the rich cosmic groove of his roots. A lush, narcotic odyssey, the album sounds unlike anything he's produced in the past. But at the same time, Hell has drawn on his wealth of experience and put everything he knows into Teufelswerk.
-----

2. Herman Schwartz
http://www.hermanschwartz.de/
Featuring 'Back 2 Black' (*CD 2 / Track 5)
"Herman Schwartz's version of Mark Ronson and Amy Whinehouse's 'Back 2 Black is up next.. Replacing Whinehouse's universally adored vocals with a slow melody line that stays true to the original." Guardian Guide review HERE
Heavily influenced by Kraftwerk, Boytronic, Grandmaster Flash, Herbie Hancock, Yazoo, Jonzun Crew and more. Herman Schwartz began playing with music at an early age via interest in Mod Culture, punk rock, synths, jazz rock , 60's Garage, acid house, electro, techno, house... you name it. He began DJing in 1995, producing in 2000 and - via support from Hell, Miss Kittin and more - here you have him. The Guardian UK described 'Back 2 Black' - Improbable times at DJ Hell's Berlin Gigolo HQ. Not only is Old Man Electroclash back with a great new album, Teufelswerk, but, after several lean years, his label is lighting up our lives again, too. Here, like some sonic Gok Wan, Herman Schwartz gives Ms Winehouse's drab Back To Black a crisp cosmic disco makeover, transforming it into eight elegiac minutes of sweet, swooning heartache."
-----

3. Peter Kruder
http://www.g-stoned.com
Featuring 'Visions LTD' (*CD1 / Track 2)
"Peter Kruder (one half of Kruder & Dorfmeister) previously remixed DJ Hell's huge 'Listen To The Hiss' on Gigolo in 2005, the melodious 'Visions LTD' (his first 12" in a long time) is Kruder's first Gigolo maxi and will be released in March 09."
When Peter Kruder plays, everybody listens! As one half of Kruder and Dorfmeister, one third of Voom Voom, and one solid whole as Peace Orchestra, he is universally praised for being responsible for some of the finest electronic music in the last fifteen years. This is a DJ, producer and musician that refuses to look left or right, and certainly will never look back. Peter Kruder is all about forward vision and imagination to what the future may bring. Single minded, exact, and ultra professional in all his work. His DJ sets are legendary and noted for surprises far beyond what is expected of him. We could go on about the past where Peter Kruder has featured or presided, about how cool the K&D 'Sessions' and remixes were and still are, about how far and wide he has traveled on this monumental musical journey, an incredible account of the series of events making up this extraordinary person's life. But we won't.
-----

4. Fetisch &Me
http://www.lottergirls.com
Featuring 'Discotecktonic' (*CD 2 Track 3)

"'Discotecktonic' was Fetisch &Me's first Gigolo release in 2008, their second 'The Calling / Useless Man' was released January 2009... Techno for the strong, words for the dirty-minded."
Fetisch & Me are the production team behind Terranova and more recently The Lotterboys / Girls. The duo have released for labels including R&S, Eskimo, TNT, Island Records and !K7, with their first collaboration EP for Gigolo released early 2008 with 'Diskotecktonik / Black Palms'. Fetisch (under the name The Cosmonauts Of Innerspace) also independently released the 'Allergy' EP on Gigolo previously, as well as working with Gigolo's Princess Superstar and being a regular member to the Gigolo family.
-----
5. The Model
www.myspace.com\themodelelk
Featuring 'Newly Found Voids' (*CD 1 / Track 8)
"Romanian artist The Model's introspective second-Gigolo-release 'Newly Found Voids' was released in 2008."
The Model has become a truly successful role model on the electronic music scene. He's managed to become a must-see act, surprising in itself given that he's never been pushed forward by any marketing or promotion teams. He's managed it because he truly is something else: motivated by extreme passion and vision, animated by amazing creativity and personal charisma that singles him out as a true entertainer. A self-taught producer, he managed to become the first Romanian producer to get signed to two major German dance labels: DJ Hell's International Deejay Gigolos and Traum Schallplatten. In March 2005 The Model released his track entitled Give in To Me on the 8th Gigolo Compilation, and that same month Traum release his first 12inch EP, called Robotiko. After playing at the 2005 Gigoloveparade, he returned to the country to perform at an ever-increasing number of parties and festivals. There he's a constant promoter of the Gigolo sound: a mixture of techno, acid, punk and italo-disco.
-----

6. Heib
www.myspace.com/jochenheib
Featuring: 'Jackpot' (*CD2 / Track 9)
"Heib's 'Jackpot' embodies what's Chicago was released in January 2009."
Jochen Heib started as a singer in a band but in 1993 swapped rock for rave when he acquired his first set of turntables and some black plastic called vinyl. His first production came in 2002 on Kompact sub-label Auftrieb, from here further releases arrived on Kompact Extra, Senior Solution Manager, DNS and Kompact itself. Now Heib brings his premier release to Hell's Gigolo with the three-track 'Jackpot' EP - an analogue journey into the worlds of the 303 and 808.
-----

7. Snuff crew
www.myspace.com/snuffcrewtrax
Featuring: 'DJ into Space' (*CD2 / Track 4)
"Snuff Crew's 'DJ Into Space' is the spacey second Gigolo release from the duo, following 'We Make You Scream', released in 2008."
'It's all about Jack!' The Snuff Crew love Chicago House. The traxx of the mysterious collective from Germany work true to the slogan 'Jack your body' and also offer a special kind of deepness. 'God', the first Snuff Crew 12" was released in September 2008 on Marco Passaranis's Nature Records which was charted by DJs inclduding Prosumer and Ellen Allien. Aside from the sound of the Windy City, Disco, Italo Disco and Acid House are also big influences. In the studio, Snuff Crew is mostly a One-Man-Show but for the live gigs a live crew of two jack the house. The Snuff Crew are also passionate remixers and have already remixed for DJ Hell and Kids on TV. Here's what to expect.. fresh blood, classic sound.
-----
8. Actor One
www.myspace.com/Actor0ne
Featuring: 'Popcorn' (*CD 1 / Track 2)

"Disc 2 starts with epic techno in the form of Actor One 'Popcorn', which also features on the TWELVE EP, the coinciding EP, released February."
Actor One is the musical production project of John Dimas and Ison and its purpose is to move your body via your ears. Based In Thessaloniki, Greece, they have been Djing on their own separate projects pushing dance music forward in the country with the established NON collective, however it is not more than a year since they have decided to work together on music. Sharing the same passion for music based on house and Detroit grooves they have created and developed their own electronic dance sounds.
-----
9. Joel Alter
www.jor-el.se
Featuring: 'Snake Eyes' (*CD 1 / Track 7)
"Joel Alter's 'Snake Eyes' - exclusive to the compilation and heavily supported by Richie Hawtin - is the follow-up to his 2007 'Body Trance' EP."
Born and raised in Gothenburg on the west coast of Sweden in 1975 Joel Alter started his music career playing the violin at the age of 10. Ever since music has been an essential part of his life. Early inspirations were bands like Depeche Mode, J.M. Jarre and Front 242 which lead him to leave classical music for electronic. Joel have played live with jazzmusicians and composed music for the Swedish National Theater. He is in no way limited of being a techno artist. Where different artforms meet, that is where he sees himself. Joel released his first 12" ( Space Tracks E.P. ) under the name Jor-el on Gigolo records in 2005, followed up of "Fade Away" in 2006 and his "Body Trance E.P." in 2007 which was charted by Carl Cox. Last year Joel got in contact with Ritchie Hawtin, who featured 2 of Joels tracks on his mix for Resident Advisor. In November he released his first track on Minus, the track "Spektrolit" was featured on the compilation "Sounds From Can Elles" (Minus 71) also featured with the Nov issue of Dj Mag.
Joel now live and work in Berlin.
-----

10. Capitan commodore
www.myspace.com/capitancommodore
Featuring 'Express' (*CD 1 / Track 11)
"Capitan Commodore's heavy ride 'Express' was his first Gigolo release in 2008."
Capitan Commodore aka Mariusz Socha joins the long and illustrious list of International Deejay Gigolos. His influences run through idols such as Herbie Hancock, Kraftwerk, Björk, Matmos and Mr. Oizo.
-----
11. G.Rizo
http://www.myspace.com/gdotrizo
Featuring: 'Boys Medley' (*CD 1 / Track 5)
"G.rizo is a singer/producer and all-round inter-continental creative. 'Boys Medley' (featuring DJ Glow & Donovan) is an excellent prelude to her artist album forthcoming in 2009 on Gigolo... Watch this artist."
Mini Bio: G.Rizo is one of the rising stars in the Gigolo bookings roster. Interpreting dance music with a freestyle, pop-tastic flair, ranging in style from electro, disco, dub, and techno. As a singer her sound is a fusion of styles, one described by XLR8R Magazine as "a cross pollination of dirty booty bass, dubby No Wave, (and electric RnB) sung with sexy, irreverent lyrics." Live, she's a one woman kamikaze - a commanding presence, she brings a delivery that is raw, bold and soulful. Recently G.Rizo has collaborated with Gerhard Potuznik (G.D.Luxxe), Patrick Pulsinger, Trio Exklusiv, I-Wolf & Birdy, Dubblestandart, Daniel Givens and In Flagranti. Her second release for International DJ Gigolos is due in February 2009. With an album due in May. Expect something slick. Herr Hell is the man for spotting talent like this.
Welcome to Gigolo.
CD 1 Tracklisting:
1. DJ Pierre - 'Ive Lost Control' (WildPiTcHMix)
2. Peter Kruder - 'Visions Ltd'
3. I.M.B. - 'Kill Bill' (BMG Edit)
4. Opiates - Candy Coated Crime
5. G.rizo - Boys Medley featuring DJ Glow & Donovan
6. Hell - 'The Disaster' (CD Eleven edit)
7. Joel Alter - Snake Eyes 10:04
8. The Model - Newly Found Voids 6:21
9. Motor - 'Jacked Up ' 4:45
10. Richard Bartz - Voyager 5:36
11. Acid Junkies - 'Chica Sexy' 5.31
12. Capitan Commodore - 'Express'
13. Seelenluft - 'You Can Dance' 3:33
CD 2 Tracklisting:
1. Actor One - 'Popcorn'
2. Marascia - 'Leggy'
3. Fetische &Me - 'Discotecktonic'
4. Snuff Crew - 'DJ Into Space'
5. Herman Schwartz - 'Back 2 Black'
6. Abe Duque - 'Life Is sooo Good To Me'
7. Lopazz - 'What Should I Do?' (feat. Deafny Moon).
8. Bennie A - 'X3'
9. Heib - 'Jackpot'
10. Joe Le Bon - 'Tanssiakos 07'
11. Phobia - 'Phobia' (Hells CD Eleven edit)
http://www.gigolorecords.com
http://www.myspace.com/gigolorecords